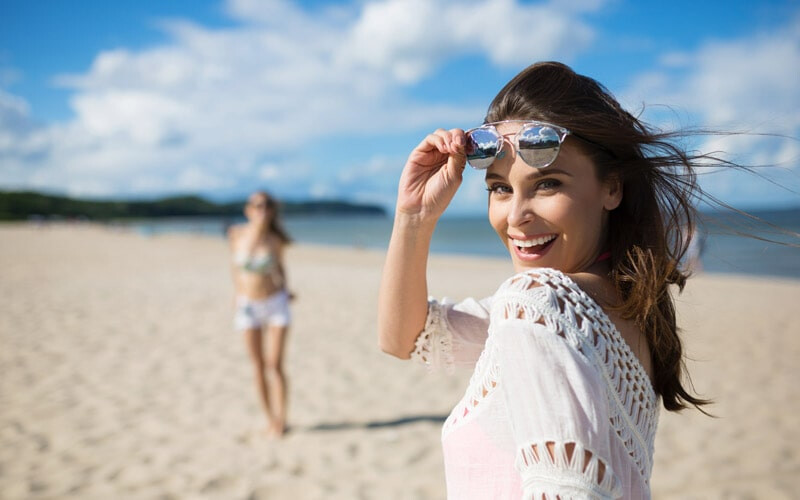 5 Often-Forgotten Ways to Stay Safe in the Sun.
There's nothing like a balmy summer's day and a hit of vitamin D to make us feel great. Many of us are increasingly aware of the damaging effects of the sun on our skin, with risks ranging from premature aging, sun burn to melanoma. Despite, this there are still some areas that we often neglect when thinking about sun protection. Whether you're enjoying the great British summer or jetting off to sunnier destinations, we've put together 5 essential tips to keep you safe in the sun.
Shield your eyes
Your sunglasses aren't just for taking the perfect holiday selfie, it's also vital that we shield our eyes from the sun as UV exposure can have serious consequences. If you've ever had sore eyes from staring at the sun too long, it can lead to Photokerastitis(1). It usually feels like a sunburn in the eye and is caused by UV rays. Symptoms can include watering eyes, excessive blinking, a gritty sensation in the eye and blurred vision. Very unpleasant!
When choosing your holiday shades, look for sunglasses that let through no more than 1% of UVA and UVB rays, and when selecting frames go for lens that completely cover the eye area to prevent sunlight getting in the sides. Choose a close-fitting wraparound style for ultimate protection. Aim for pairs that come with a 'CE mark' or 'British standard' sticker but beware of any styles marked 'fashion glasses' as these do not guarantee full UV prevention(2,3). Pair with a wide-brimmed hat for optimum protection.
Protect your pout
While your sparkly summer lip-gloss may leave you looking glamorous by the pool, beware of shiny lipgloss as this can absorb sunlight and increases your chances of a burn. (4). Avoid a red, throbbing pout by selecting a lip balm with added SPF. SPF lip products tend to have a waxier texture than regular balms and tend to be less reflective to avoid too much light absorption. Try to avoid menthol products, as these can dry out lips and make them even more sensitive. There are plenty of affordable products available from your local pharmacy, such as Lypsyl Sun Protect (with SPF50) that can help keep your lips hydrated and free from burns all summer.
Be scar-aware
Our scars are especially vulnerable to the harmful effects of UV. However, in a survey conducted by KELO-COTE ®, almost half of the respondents were unaware of the need to protect their scar from the sun (5).
Silicone gels are the gold standard for scarring, softening and flattening raised scars while reducing redness or discolouration (6).  During summer, choose products such as, KELO-COTE ® UV gel, a specially formulated silicone treatment which also contains SPF30 to protect scars from the effects of the sun. Remember to apply your normal sunscreen once the silicone treatment has dried and continue to reapply every couple of hours.
Sun care for your hair
SPF isn't just for your skin, our hair is often forgotten when thinking about sun exposure. UV rays can damage the outside of the hair follicle, effectively sun-burning our hair, leaving locks dry and brittle (7).While our scalp is often forgotten because it is hidden under our manes, it is very important to be vigilant about sun-burn in this area. As this skin is hidden from view, melanoma on the scalp can often go undetected for long periods of time(8).
The very best protection for your hair in the sun is to wear a head-scarf or hat and avoid being out too long during the warmest hours of the day. This has the added benefit of reducing our risk of sun-stroke. However, if you want to show your strands some TLC or you plan to let your hair loose in the pool there are steps you can take to protect your hair. This includes choosing a shampoo and conditioner that has a UV filter, and applying an after-sun conditioning treatment after a long day at the beach. Our hair shaft is weakened when wet, leaving us especially vulnerable to the sun's rays. Applying an SPF hair-spray or leave-in-conditioner, before and after, a dip in the pool or sea can help our hair stay moisturised and prevent damage.
Watch out for hard-to-reach areas
While many of us are aware of the need to slather on the sunscreen, there are still some common mistakes people make when applying SPF to our skin. For the best results, apply a generous amount of sun-cream around 20 minutes before going out in the sun, watching out for often-missed areas such as the back of the neck, behind the ears and tops of the feet.
We often think of those with very fair complexions as most vulnerable to the sun. However; a tan is no protectant against sun damage, even for those of us with naturally olive-toned or darker skin. Depending on our skin type, a tan is only equivalent to around SPF3 protection so it is still important to choose a high factor sunscreen (SPF30+) (9). Most adults need more than they think for a full application; between 35-55ml each time and it should be reapplied every couple of hours (10) . While some sun-creams are marked 'water resistant' or 'sweat resistant', reapplication after the pool, sea or shower is still advisable to ensure maximum protection.
For product information please contact Alliance Pharmaceuticals: medinfo@alliancepharma.co.uk.
References
Porter, D and Pagan-Duran, B. 'What is photokerastitis- including snow blindness'. American Academy of Opthamology. Feb 16, 2019. Accessed April 2021. https://www.aao.org/eye-health/diseases/photokeratitis-snow-blindness
Association of Optometrists. 'Sunglasses Advice in 60 seconds.' July 29, 2016. Accessed April, 2021. https://www.aop.org.uk/about-aop/media-centre/press-releases/2016/07/29/sunglasses-advice-in-60-seconds
Eyecare Trust. 'Buying Sunglasses'. Accessed April 2021. http://www.eyecaretrust.org.uk/view.php?item_id=373
Skin Cancer Foundation. 'Sun Protection and Makeup'. November 17, 2011. Accessed April, 2021. https://www.skincancer.org/prevention/sun-protection/sunscreen/sun-protection-and-makeup 
An online survey was conducted by Atomik Research among 2,000 UK adults. The research fieldwork took place in May 2018. Atomik Research is an independent creative market.
Monstrey S, et al. Updated Scar Management Practical Guidelines: Non-invasive and invasive measures. Journal of Plastic, Reconstructive & Aesthetic Surgery 2014;67:1017-25
Cleveland Clinic. 'Best ways to protect your hair from sun damage'. August 22, 2014. Accessed April 2021. https://health.clevelandclinic.org/best-ways-to-protect-your-hair-from-sun-damage/
Pillemer B, et al. 'Three Cases of Scalp Melanomas Discovered by Hairdressers.' Journal of Clinical and Aesthetic Dermatology, 2013; 6 (8): 32-34.
Shmerling, R. 'Are there benefits of a base tan'. Harvard Health Publishing, June 12, 2015. Accessed April 2021. https://www.health.harvard.edu/skin-and-hair/are-there-benefits-to-a-base-tan
British Association of Dermatologists. 'Sunscreen Fact Sheet'. 2013. Accessed April 2021. http://www.bad.org.uk/for-the-public/skin-cancer/sunscreen-fact-sheet
JB-000814. Date of Preparation: April 2021