Types of Scars
A scar is a mark that is left on the skin when a wound or an injury to the surface of the skin has healed. KELO-COTE® is effective on both keloid and hypertrophic scars. Find out what the difference is: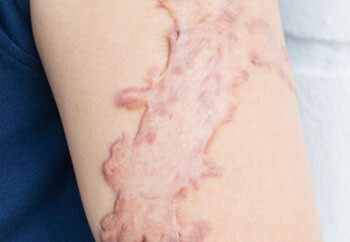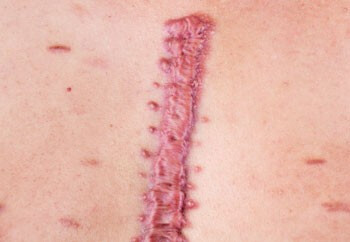 Caused by an excess of scar tissue produced at the site of the wound where the scar grows beyond the boundaries of the original wound, even after the wound has healed. They are often raised and itchy.1,2
Starting as red, raised scars they become flatter and paler over the course of several years. Unlike keloid scars, hypertrophic scars don't extend beyond the boundary of the original wound, but they may continue to thicken for up to six months.2
View References
Close References
1 Devlin-Rooney, K. & James W. (2005) Management and prevention of abnormal scars. Nursing Standard, 19 (28); 45-54.
2 NHS England (October 2020) https://www.nhs.uk/conditions/scars (Accessed November 2020)
Do You Have a Question About KELO-COTE®?
Find out the answers to the most commonly asked questions about KELO-COTE®
View FAQs
Stockists
Available at your local pharmacy, ask today