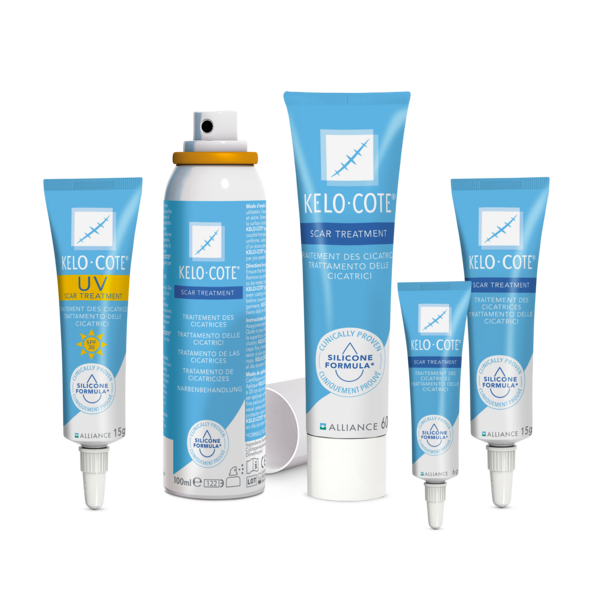 KELO-COTE® is a silicone-based treatment for abnormal scars. KELO-COTE® is clinically proven to soften and flatten raised scars, while reducing discoloration and redness.
KELO-COTE® can be used to treat existing scars or to prevent the formation of new scars, provided it is applied as soon as the wound is closed or sutures removed. The maximum effectiveness of KELO-COTE® is expressed on recent scars and on immature scars less than 2 years old.
Plastic surgeons and other healthcare professionals have used topical silicone products such as KELO-COTE® to treat hypertrophic and keloid scars since the early 1980s 1 (the formulation of KELO-COTE® having been established in 1998). These products are recommended as first-line treatment in the international recommendations for the treatment of scars 2 .
The patented formula of KELO-COTE® forms a protective barrier on the surface of the skin, which treats and protects the scar 24 hours a day. The product dries in 5 minutes* after application. And for more sensitive scars – such as burn scars – the product is available as a spray, which avoids any painful contact.
It is recommended to continue treatment for 60-90 days for best results. However, if you still see improvements after this time, it may be beneficial to continue treatment.
1 1Stoffels, Ingo & P Wolter, T & M Sailer, A & Pallua, N. (2009). [The impact of silicone spray on scar formation. A single-center placebo-controlled double-blind trial]. The Dermatologist; Journal of Dermatology, Venereology, and Related Fields. 61. 332-8.
2Gold MH. Updated international clinical recommendations on scar management: part 2–algorithms for scar prevention and treatment. Dermatol Surg. 2014 Aug;40 (8) : 825 – 31
*Unpublished data, study including 10 subjects. When used as directed.