Frequently Asked Questions
How soon can I use KELO-COTE® after injury?

It is best to use KELO-COTE® after the wound has healed and there are no scabs remaining, or after your sutures are removed. With burns you need to wait until the skin has healed over.

Will KELO-COTE® make my scar disappear?

KELO-COTE® advanced formula is designed to improve the physiological and cosmetic appearance of the scar. We cannot guarantee that it will make your scar disappear completely.

Is KELO-COTE® suitable for children?

Yes, KELO-COTE® is suitable for use on children.

How long do I need to use KELO-COTE® for to see an improvement?

The recommended minimum treatment time for KELO-COTE® is 60 to 90 days. If you continue to see improvement at the end of the 90 days you can continue treating your scar. For older scars it is likely that you will need to continue for longer than 90 days.

Does KELO-COTE® offer sun protection for my scar?

KELO-COTE® Scar Gel UV has added SPF 30 to protect scars from the aggravating effects of the sun. It is important to reapply sun protection to the scar.

Will people notice KELO-COTE® on my skin?

KELO-COTE® spray and gel are colourless and invisible when dry. KELO-COTE® UV is slightly cloudy due to the inclusion of the UV.

Does KELO-COTE® prevent scars from forming?

Is KELO-COTE® effective only on new scars?

Can KELO-COTE® be used on the face and body?

What is the difference between KELO-COTE® silicone gel and silicone sheets?

KELO-COTE® is an advanced formula silicone gel which is easily applied directly to the scar, and self-dries quickly. It can be used on joints and doesn't restrict movement. KELO-COTE®'s formula ensures that it adheres to the scar, unlike sheets which often require sticking in place. Silicone sheets may be less convenient to apply, particularly on joints and can restrict movement. Also KELO-COTE® is transparent (not KELO-COTE® UV) and will be less visible than sheets on exposed areas. Finally, unlike silicone gel sheets which are removed, washed and reapplied, a new layer of KELO-COTE® is easily applied at each use. The choice between silicone gel and sheeting is based on many factors such as the size and location of the scar and individual preference, your healthcare professional will be able to help you decide which is most appropriate for your scar.

Is KELO-COTE® waterproof?

Can I apply make-up over KELO-COTE®?

How long does KELO-COTE® take to dry?

What type of scars is KELO-COTE® suitable for?

What is different about the spray version?

The spray version is designed for scars which are larger and more uneven. It is also suitable for scars which are sensitive to touch, such as burn scars. The spray is also hygienic to use as there is no need to touch the scar.

How often should I apply KELO-COTE®?

How do I open the KELO-COTE® tube?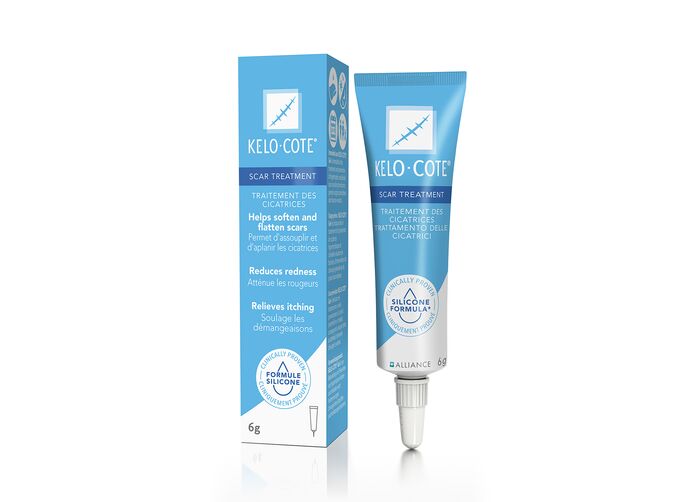 Easy to use, fast drying gel which helps soften and flatten raised scars and reduce redness.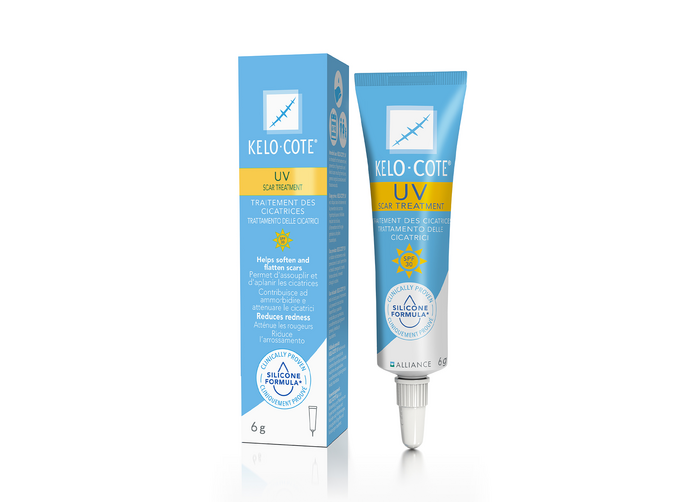 All the benefits of our standard gel but with added UV protection to help protect scars from the aggravating effects of the sun.